London Waterloo Split Train Tickets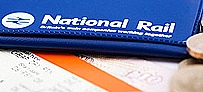 Split your train tickets using our automated best London Waterloo split fare finder for even cheaper London Waterloo rail fares.
Even if you've left booking your London Waterloo train tickets till the last minute or if there are just no more cheap dvance London Waterloo rail fares for your journey, split tickets are the answer to pay less for your London Waterloo rail journey.
Unless your route already entails changing trains split rail tickets to and from London Waterloo booked at Railsaver allow you to stay on the same London Waterloo train for the entire journey.
At Railsaver we not only show show you how pay less for London Waterloo train tickets with actual examples but our automated split ticketing online booking service takes out the guesswork and does it all for you.
Split London Waterloo train tickets booked online can be delivered to your address or collected from your London Waterloo train station prior to departure.
London Waterloo Split Train Ticket FAQ's

Although split tickets for London Waterloo train journeys work in exactly the same way as any other train tickets on the National Rail network many passengers who usually book the more expensive direct London Waterloo train tickets often ask the following questions.
What Are Split London Waterloo Train Tickets?
Split London Waterloo Train Tickets is when you purchase separate tickets for two or more sectors of the London Waterloo rail route you wish to travel instead of just one more expensive through ticket without affecting your travel options in any way.
For example, if you wanted to travel from Station A to Station D, you would expect to buy a ticket direct from A to D. However, you may find it a lot cheaper to buy a ticket from A to B, and another from B to C and still another from C to D for a cheaper combined train ticket price. This is especially true when not all sectors of your journey are during peak time.
You will still travel on the same London Waterloo train, at the same times and in the same seat but with two or more cheaper tickets instead of one expensive ticket and, contrary to what some may say, you do not have to break your journey at any of the intermediate stations. This is what split ticketing is all about.
Which Train Company or London Waterloo Route Can I Use?
Unless the split ticket say it can only be used on a specific train company, they are valid on all national rail operator services on your London Waterloo rail route within the zones for which the ticket is issued.
Do I Need Change Trains Where I Split Tickets?
When you book London Waterloo train tickets using the Railsaver split train ticket facility you will not need to change trains where the ticket is split. In event you do need to change trains (which you would then normally have had to do in any event) this will be made known to you before you complete the reservation.
Do You Split Advance and Return Tickets as well as Standard Fares?
Yes, we split your fare for all ticket types and will likely make savings on all of them.
When using the Railsaver split train ticket wizard to book your London Waterloo rail journey the cheapest possible permutation of advance and standard fares will automatically be found and offered to you for both standard and first class travel. Any restrictions that may apply to your London Waterloo train tickets will be made known to you before and not after you confirm your reservation.
Is Splitting London Waterloo Train Tickets Legal?
Provided the train stops at and does not merely pass through the point where you split your fare the use of split tickets on your London Waterloo rail journey is completely legal and allowed by the National Rail Conditions of Carriage.
Are There Any Additional Fees?
Every time you use our service to find cheaper London Waterloo split train fares we are charged by the NRS to access the fares database. We obviously need to recover this cost so do charge a nominal fee equal to 10% of any additional split ticket savings we find you.
For example: If our split ticketting service finds you additional savings totaling £36.00 we will charge you a service fee of £3.60, you will however then still pay £32.40 less than you otherwise could have for your London Waterloo train tickets had you not used our London Waterloo splitticketing booking service.
If we are not able to identify any additional savings from splitting your London Waterloo train ticket you may still book the cheapest available London Waterloo train ticket using our service and not pay any additional fee.