Rail Cards, Season Tickets & Travel Passes
There is, especially amongst tourists to the UK, confusion between the difference between a Rail Card, Season Tickets and a Rail Pass. Rail Saver has gathered the following information to help clear up this confusion and explain as simply as possible the difference between a Rail Card, a Rail Pass and a Season Ticket.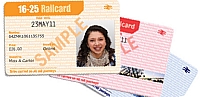 National Rail Cards are able to be used by specific groups of frequent train commuters to pay a lower price for their train tickets. The three primary railcards available in the UK, all offering at least 30% off the fare you would have paid had you not held a rail card, are the Family & Friends Railcard and the 16-25 Railcard.
If you don't have a railcard, and your ticket(s) costs over £90, buy one. The maths is simple, the railcard is £30 and you get 1/3 off so you save at least as much as the card costs. If you're likely to travel by train again during the following year your savings then start to add up.
Railcards aren't always valid during peak travel times, so if you do a regular journey, first check whether the card's applicable when you will want to use it.
Railcards can only be bought at stations or online at www.railcard.co.uk
Rail Travelcards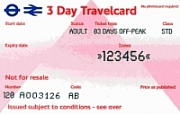 Rail Travelcards should not be confused with Season Tickets.
A Travelcard is an inter-modal ticket, valid for a period of time varying from one day to a year, for use on most public transport in London. Travelcards are issued for periods of one, three and seven days, or for any period from one month to one year.
When bought at a Tube station or other Transport for London agent, one- and three-day Travelcards are sold on a paper ticket with a magnetic strip, and Travelcards lasting seven days or more are loaded on to an Oyster Card.
Travelcards are sold in a limited number of combinations of adjacent zones with different combinations available depending on time and length of validity. Travelcards for only one zone are not sold.
National Rail Train Season Tickets / Tarvelcards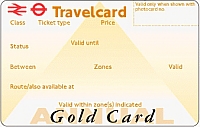 Train Season Tickets / Travelcards are likely to offer better value than daily tickets if you are making the same journey on three or more days within a week.
Train Season Tickets are available for consequtive periods of seven days, one month, and any period between one and 12 months. For added convenience, you can include PlusBus or a Travelcard with your rail season ticket.
To determine the cost of a rail season ticket using the National Rail Season Ticket Calcultor click here (you'll be redirected away from Rail Saver to the National Rail web page that will open in new window) and simply enter the desired departure and arrival station names, select the peiod required in the form and then click 'calculate'.
For detailed information on Train Season Tickets click here to visit our dedicated Season Ticket page.
International Rail Passes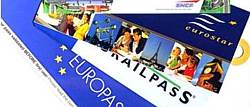 In brief a Rail Pass is ticket to travel on one or more trains in one or more countries that is purchased by the traveler in their home country prior to departing on their holiday.
A rail pass is usually not able to be purchased after your arrival in the country you wish to travel and must be purchased ahead of time. Most rail passes may not be purchased by local residents (eg: Britrail passes may not be sold to UK residents).
To obtain Eurpoean rail pass prices and purchase your rail pass online we reccomend using the secure and trust ACP International Rail rail pass booking service below.
| | |
| --- | --- |
| CLICK HERE for International Rail Passes | There are many variations of rail passes for tourists available including: |
Note: If you are not planning to travel extensively by rail or are only needing one or two point-to-point European train tickets it may cost a lot less to book tickets for just the journeys you need which you can do on this page.
For comprehensive information on all other European Rail and Drive Passes, European City Passes, Australia and New Zealand Rail Passes, North American Rail Passes and European Country Rail Passes please click here.