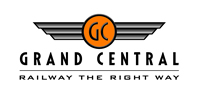 GRAND CENTRAL RAILWAYS - Grand Central Railways Train Ticket Prices, Timetables and Reservations
You will pay less for your Grand Central Railways train tickets when you book your tickets online in advance
4.8
stars - Based on
279
Verified Customer Reviews
Grand Central Railways
GRAND CENTRAL RAILWAYS
Grand Central Railways Train Ticket Prices, Timetables and Reservations
The best deals on train fares and the cheapest tickets from Grand Central Railways.
Travel in comfort and style for less from London to North Yorkshire and the Durham Coastline with Grand Central Railways
Grand Central Railways operates trains from London Kings Cross to Sunderland via York, Northallerton and Hartlepoolas well as from London Kings Cross to Bradford via Doncaster, Pontefract, Wakefield and Halifax.
Grand Central Trains First Class
Grand Central Trains First class passengers can expect to enjoy traditional seating patterns with wider, reclining seats and adjacent power points for phones, personal entertainment or laptops. Complimentary beverages and a regional newspaper to hand, the first class carriage is a welcome haven for those working on the move or wanting to enjoy a more relaxed and spacious environment. Curtains at the windows will offer additional privacy and shade.
Grand Central Trains Standard Class
Grand Central Trains Standard class passengers will benefit from inter-city levels of comfort with improved seating and leg room, which will have the added advantage of providing additional space for luggage. Power points will also be provided for working, personal entertainment or phones.
All tables in First and Standard will have imprinted Monopoly®, Cluedo® and Chess Boards for those looking for some more traditional and inter-active entertainment on their journey. Pieces will be available to purchase from the buffet, or passengers are very welcome to bring their own.
Cyclists are welcome aboard all Grand Central's trains.
Grand Central Advance Purchase tickets are usually available to purchase 12 weeks in advance. Check the homepage where each week we tell you when Advance purchase tickets are released.
Rail Saver finds you the most cost effective Grand Central Train fares for your rail journey quickly and easily. Enjoy more rail travel for less when you use Rail Saver to book your Grand Central Train tickets online.